Here is your PAC Global Leadership Awards Nominee Roundup! Each week we will be featuring five of the fantastic nominees, leading up to the ONEof100 Summit on February 18, 2020 where the winners will be announced.
---
GIN DISTILLERIE 3 LACS
In reflecting a local artisan style, the Gin Distillerie 3 Lacs identity represents the shape of the region created by the 3 lakes: Deux-Montagnes, Saint-Louis and Saint-François. Illustrations of sunflower, lemon and the yellow colour are used to communicate the two main botanical ingredients of this distinctive gin. The overall visual expression is contemporary and classic at the same time; a beautiful object that can be proudly placed on one's bar.
---
L'ORÉAL REDKEN®
The new REDKEN® Flash Lift Bonder Inside portable pouch increases the product to package ratio compared to its rigid predecessor. Additional innovations include a unique directional pour spout that prevents powder fumes while pouring and guides product into the measured dosing cap and a cross pattern within the pour spout to help break-up clumps of product. The new package also stands up prominently on the shelf providing a great brand billboard.
---
DAINTY
Dainty's identity is articulated in white on black to give it a premium touch, carefully selected to position the brand in a highly competitive universe. Each package has a photograph evocative of the country of origin of the variety, with the sepia treatment contributing to the superior quality of the rice in this range. The black blocking effect makes the brand attractive, unique and easy to identify in the rice category. The new bag takes less space in the store, offers a longer shelf life, and is able to be resealed for easy storage.
---
SOCIAL PLASTIC FOR NATURE BOX AND FA
Social Plastic® is pioneering the supply chain with Plastic Bank to establish a steady stream of material that can be used in packages again and again. Keeping as much value as possible within the country, the collected material gets pre-sorted by plastic type and is shredded on-site into flakes for efficient transportation. The raw material is then imported to Europe for processing and final conversion. The power of this partnership, besides the resin itself, is its scalability across the globe to tackle ocean plastic where it appears and alleviate poverty at the same time.
---
SCHNEIDERS DRY CURED SALAMETTIS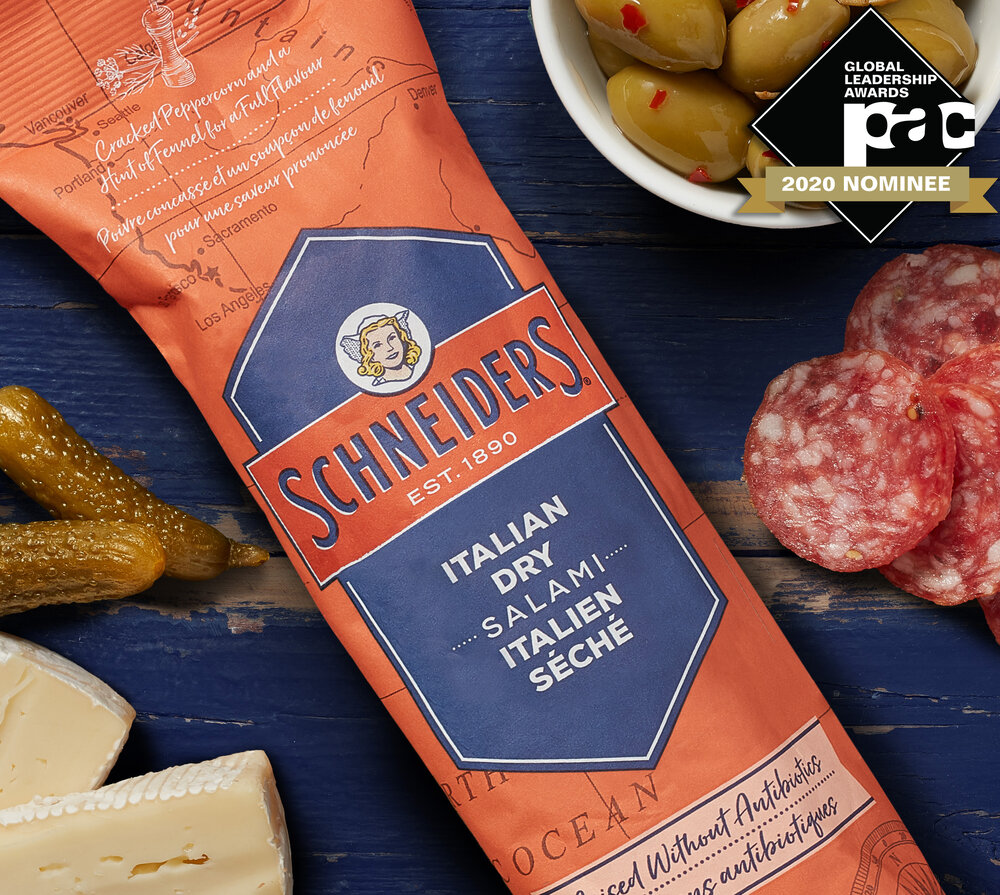 As part of a broader goal to innovate and expand its offerings, Schneiders looked to launch a premium line of dry cured sausages. The creative solution for the new dry cured salamis brings the Schneiders brand to life with a curated design that celebrates the care and attention the brand devotes to the making of their products. The matte paper stock is reminiscent of butcher wrap, the line rendering of the ingredients signifies simplicity and quality, while the map in the background speaks to the provenance of each varietal.