Welcome to the PAC Global Leadership Awards Packaging Trends update brought to you in partnership with UK packaging innovation consultancy, ThePackHub. Reusable packaging is a significant growth area and ThePackHub is tracking many new initiatives. We have selected five new innovations for you to take a look at.
---
Taking on the Takeout Container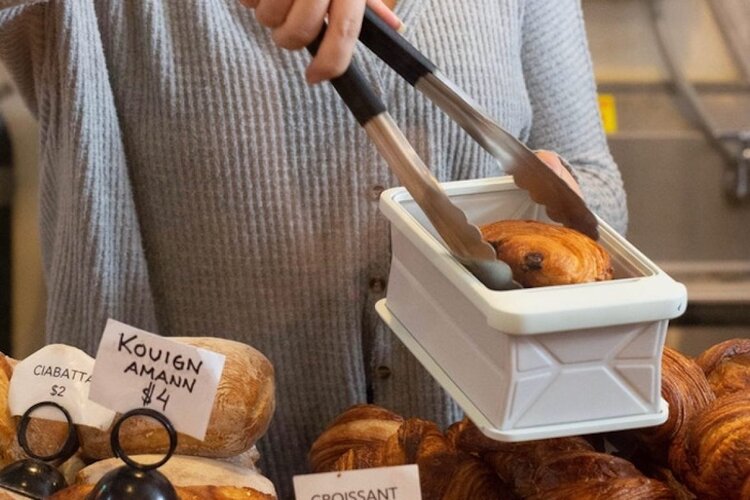 A new collapsible lunchbox has been introduced that makes takeout easier to transport as well as being better for the environment than the single-use equivalent. The MolaBox patent-pending design is easy to use and can eliminate every single piece of waste related to takeout food including cutlery. MolaBox is made using recycled materials and has a slimline design that's easy to carry around. The collapsible container has a leakproof multipurpose lid and comes with a bag to help carry the MolaBox around. MolaBox also includes a reusable fork and spoon and a divider to make it easy to transport different food items in the same container.
---
Refillable packages on-the-go
Algramo has already been featured in the Innovation Zone with their in-store refillable vending machines in their home market of Santiago, Chile. Now it's expanding to include a mobile refill unit. Customers bring a reusable plastic bottle back to a vending machine that travels around offering refills. An RFID code on the bottle gives discounts on future purchases to lock in consumers and create a habit of refillable behaviour. Brands aren't paying for added packaging, which reflects in the detergent being sold for up to 30% less than in store. Consumers also get an additional 11% discount every time they return the pack. The cashless system also reduces risk of robbery. There are plans to extend the Unilever endorsed trial to the US market in due course as well as a pilot with Nestlé to sell pet food refills.
---
Bringing Convenience to Refillable Packaging
Retailer Carrefour is testing a refill station for detergent in an outlet in Dubai. The 'Green Home' Zero-Waste refill station has been initiated in collaboration with Planet Pure and is part of the retailer's ongoing efforts to reduce single-use plastic. The business has calculated that if a shopper was to refill a 154 g bottle 10 times over a year, this would prevent the purchase of the equivalent of around 55 grams of single use plastic and therefore reduce their plastic waste by 70%. Customers have the option to buy reusable bottles and fill them with detergent instead of buying new bottles. An RFID chip is embedded into the label of the reusable bottles so that the station unit can ensure that the right product is dispensed. Following the pilot test, it is hoped the refill station will be rolled out to additional stores in UAE in due course.
---
Can I Refill Your Drink?
Scottish distillery Dunnet Bay has announced the introduction of a fully recyclable pouch for its Rock Rose gin brand. Rock Rose is well known in the market for its collectable hand signed ceramic bottles that are popular with drinkers. Shoppers are encouraged to keep their previously bought bottles and order 70cl pouches to refill their bottles. The pouch weighs 65 grams compared to 700 grams for a bottle. The pouches have been designed to fit through letterboxes. There is a significant saving of £4 over the price of ordering a new ceramic bottle. The pouches can be returned to Dunnet Bay via a freepost postal recycling scheme. A four layer laminate pouch has been designed to lock in all the freshness of the gin, with an easy-to-use plastic spout closure. The refill solution will be recycled by TerraCycle. Dunnet Bay are also offering in-store refills at their distillery retail outlet.
---
Reducing Packaging in Personal Care
The Body Shop now has some 3,000 stores in more than 60 countries. Like all retailers, it is under pressure to reduce the amount of packaging in the business. The cosmetics, skin care and perfume retailer has announced a new initiative that sees a refillable shower gel system installed in its busiest UK store. The new concept store in central London is an attempt to return to its roots. The chain had previously scrapped a similar refillable scheme two decades ago due to lack of shopper demand and confusion on how it worked. Times are different now and it if felt the new initiative could have real traction in the market. The Body Shop's trial refill station will initially just be for shower gel. The Bond Street store will also include a water station for shoppers to refill their beverage bottles. Aspects of the pilot are likely to be rolled out to stores in Europe and North America if successful.