Welcome to the PAC Global Leadership Awards Innovation Trends update brought to you in partnership with UK packaging innovation consultancy, ThePackHub. We have hand selected five packaging innovation highlights that we think are deserving of mention and will pique your interest. Look for more of these in the coming weeks!
---
Unwrapping a single-use plastic solution
Unilever is a founding member of The UK Plastics Pact that aims to eliminate unnecessary single-use plastic packaging by 2025. Read more about the company's sustainable packaging commitment. The consumer goods giant is trialling new packaging format to help reduce the amount of single-use plastic used.  Multipacks of Solero organic peach ice lollies will be sold wrapper-less in a recyclable cardboard box with compartments that negates the need for individual plastic wrappers. The new box is a PE-coated cardboard. It has a plastic content of around 5% meaning it can be widely recycled in the UK. A full roll-out is not a foregone conclusion with a small test in Ocado online stores to help establish shopper reactions to the activity and whether the pack format will be rolled out.
---
In-your-face messaging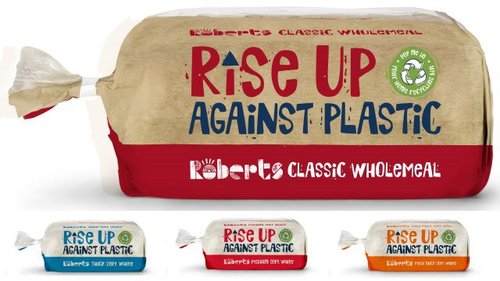 Although the plastic on much of the wrapped bread sold in the UK is recyclable, few local authorities collect it as part of kerbside services.  Consumers need to take the packaging to a recycling point to be recycled alongside carrier bags. Northwich, UK based Roberts Bakery is creating a stir with 'in your face' messaging to promote the introduction of paper packaging. Rolling out to 300 Tesco stores on its core 800g loaf range, the bags are made from sustainably sourced paper and a thin PP coating. This enables the loaves to carry OPRL's 'widely-recycled' logo, the first UK bread brand to be awarded this.  The roll-out of paper packaging on the 800g core range follows the launch of the packaging on Roberts' bloomer as reported in the Innovation Zone – 100% recyclable bakery brand shouts claims on pack. Roberts is aiming to eventually switch to plastic-free packaging across all SKUs and in all stockists.
---
Cutting down on plastic
UK retailer Asda have been working to reduce the amount of plastic used for their packaging. The business aims to for all their own brand packaging to be 100% recyclable by 2025. This will be achieved by cutting what is seen as unnecessary plastic across the business. More information: Asda sustainable packaging commitment. The retailer is making a change to move towards their sustainability aspirations by switching their own-brand chicken into a pouch. The new pouch solution breaks convention as well as using over 55% less plastic packaging compared to the current tray format. There is also an estimated 73% reduction in transportation due to a smaller surface area of the new packs. The pack size change also ensures that more product fits on a shelves to improve availability. The pack also has easy tear, which means consumers don't have to use a knife to open the pack.
---
Taking beer cans to a new level
The gaming industry is not short of innovation and this new limited-edition controller make have just taken things to another level as it doubles up as a beer can! Miller Lite have introduced the Cantroller, a video game controller that holds 12 ounces (354ml) of beer.  It is well understood that gamers sometimes struggle to multitask as they play and this might just be the answer to their problems! The Cantroller is a fully functioning controller equipped with a host of useful functional features including a USB charging port, Bluetooth and haptic feedback. The controller has been created as part of a promotion to generate interest in the E3 gaming expo in Los Angeles. Before you rush out to try and get your own, only 200 Cantrollers will be up for grabs at the event. See also Corrugated board used to create interactive gaming kits.
---
Reinventing both package and product
The negative single-use plastic sentiment is seeing new categories popping up. An area for change is in the bathroom with a number of brands looking to switch out of plastic with new packaging alternatives in a sector that is starting to take off. Canadian bar shampoo company Unwrapped Life is one of these businesses. The brand has a philosophy that 'shampoo really doesn't need to be in a bottle' and is cutting single-use plastic by offering a solid-form shampoo and conditioner combination. The business also uses paper to pack the products. The bars are small and lightweight. Rigid paper mailers or small cardboard boxes are used for online orders. The business has sourced recycled paper products to cut down on the impact of virgin paper manufacturing and distribution. See also Water soluble shampoo pods reduces plastic use and Single use shaving pods dissolve in water.
These innovations are a selection of over 3,300 uploaded to ThePackHub's Innovation Zone database. If you like to know more about subscriptions, please let us know.